2013 Concert Series Lineups
Main Stage
Friday, August 30
7:00pm- Opening Ceremonies
7:30pm- Delisa Dawn & Route 66
9:00pm- Joe Diffie
Saturday, August 31
5:30pm- Rivertown KC
7:15pm- 6 Degrees West
9:00pm- Brett Eldredge
Sunday, September 1
5:30pm- Outlaw Jim & Whiskey Benders
7:15pm- Blackjack Billy
9:00pm- LoCash Cowboys
Monday, September 2
11:30am- Almost KISS
1:00pm- Double Vision
3:00pm- Hells Bells
Community Stage
Friday, August 30
5:30 pm – Claudia's School of Gymnastic & Dance
6:30 pm – Casa De Fitness
7:30 pm – Ballet Conservatory of Independence
9:00 pm – Klear Ambition
Saturday, August 31
10:00 am – Fairmount Dancing Queens
11:00 am – Kim's Dance Company
12:00 pm – Cowtown Cloggers
1:00 pm – Watermelon Seed Spitting Contest
2:00 pm – Alex Sons
3:00 pm – Ta Jazz School of Dance
4:00 pm – Samoan Community Organization of Independence
5:00 pm – Cathy's Creative Dance School
6:00 pm – Mosaic Oriental Dancers - Project Shimmy & Friends
7:00 pm – Studio 3V Dance Center
8:00 pm – Dancing in the Streets- Audience participation
Sunday, September 1
1:00 pm – Root Beer Chugging Contest- Sponsored by Dr. J's Root Beer
2:00 pm – Mike Hillen
3:00 pm – Jazzercise Independence Fitness Center
4:00 pm – Mel Rose School of Dance
5:00 pm – Casi Joi
6:00 pm – Mic-O-Say Dancers


Monday, September 2
1:00 pm – Ice Cream Eating Contest
2:00 pm – You Plus Me (Brent & Audrey Ford)
3:00 pm – Kansas City Public Library - Storytelling
Gospel Stage
Friday: August 30
6:15 – Opening
6:30 – 7:30 Freedom Gospel Group
7:45 – 8:45 Shoal Creek Revival
9:00 – 10:00 Phil and Pam Morgan- Spnsored by Am 1030 The Light
Saturday: August 31
2:00-3:00: Dale Perry
3:15 – 4:15 Kingdom Call
4:30 – 5:30 Route 33
6:00 – 7:00 Itza God Thing
7:30 – 8:30 Jeff Lane + Made Worthy
9:00 – 10:00 Anderson Family Bluegrass
Sunday: September 1
2:00 – 3:00 Grandeur
3:30 – 4:30 Noland Road Baptist Praise Team
5:00 – 6:00 Furst Lite
6:30 – 7:30 Soul Purpose
8:00 – 9:00 Barbwire Prophets
9:30 – 10:30 Az-U-R
Monday: September 2
12:30 – 1:30 TheRest
1:45 – 2:45 Faith Temple Praise Group
3:00 – 4:00 Viola Woods with guests Predestined and Benita Brady
HomeGrown Market and Music Stage
Friday: August 30
4:00 - 5:00 Havilah w/ Rod Fleeman on the guitar
6:00 - 6:45 Blackbird Revue
7:20 - 8:05 Rural Grit
8:40 - 9:25 Cadillac Flambe
10:00-10:45 Dollar Fox
Saturday: August 31
10am-2:10pm Prairie Dulcimer Club
2:40pm - 3:40pm Doug Kellis
4:15pm -5:15pm The Hoods
6:00pm - 6:45pm Mikal Shapiro
7:20pm - 8:05pm Betse Ellis
8:40pm - 9:25pm The Clementines
10:00pm - 10:45pm Silver Maggies
Sunday: September 1
11:00am -12:30pm Prairie Dulcimer Club
2:00pm - 2:45pm The Hampton Family Singers
3:00pm - 9:00pm Linda Mackie and Jam session
Monday: September 2
10:00am - 4:00pm Prairie Dulcimer Club
Main Stage Artists
You know Joe. When you meet him, he's the guy you thought he'd be. When you hear him sing, you can feel the honesty in his words.
Most people don't know that long before Joe moved to Nashville and became the country star we all know today he was building the foundation for his career by honing his skills as a bluegrass artist. Along with his band Special Edition, he recorded three albums and was a favorite at bluegrass festivals throughout the dust bowl.
With his legacy as a world-class singer firmly established in the annals of country music history, Joe is revisiting the music that set the wheels of his storied career in motion. With a deep respect for the pioneers of bluegrass and for the artists that continue to carry the torch today, Joe is excited to begin a new era in his career. He's found the perfect home for his upcoming bluegrass projects at Rounder Records, arguably the most well-respected bluegrass label in the business.
Since he first topped the charts in 1990 with Home, Joe has remained on a steady course, staying true to his roots and delivering hit after hit totaling twelve #1s, twenty top 10s and four gold and platinum albums. When you attend a Joe Diffie concert, you're not waiting for him to sing his hit - you're waiting for him to sing your hit. Whether it's Ships That Don't Come In, Pickup Man, John Deere Green, or If the Devil Danced (In Empty Pockets), Joe's music always makes you remember where you were the first time you heard it.
Joe's success as a recording artist is matched by his achievements as a songwriter. In addition to the numerous hits he kept for himself, Joe's songs have been recorded by Hank Thompson, Holly Dunn, Tim McGraw, Tracy Lawrence, Conway Twitty, Doug Stone, and most recently Jo Dee Messina, who's recording of My Give a Damn's Busted became a #1 hit.
Vern Gosdin once described Joe Diffie as "the man with the golden voice". He's won a Grammy, CMA Awards, and been honored as Humanitarian of the Year by the Country Music Broadcasters. He's a member of the Grand Ole Opry, recorded with George Jones, and toured the country numerous times. You would think that would be enough, but not for Joe Diffie.
He's got a lot of great music left to make, and fans everywhere will be anxiously awaiting his first project for Rounder. You know Joe – he'll deliver.
Bret Eldredge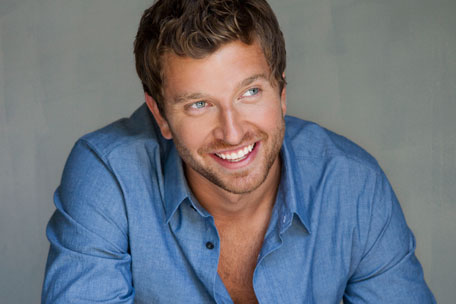 Country up-and-comer Brett Eldredge has always been attracted to singers, a fact that should come as no surprise to anyone who's heard the Illinois native's soulful, distinctive baritone. "I always gravitated towards big voices, because as a kid I had this big voice coming out of me," says Eldredge. "I was hooked on the story that somebody would be telling through their voice." With his debut album slated to be released in 2013 on Atlantic Records and new single "Don't Ya" at radio now, Eldredge is finally getting the chance to share a story of his own.
Although distant cousin Terry Eldredge is a member of seminal bluegrass outfit the Grascals, closer to home, Brett's musical talent was the exception. The little kid with the big voice grew up listening to records from Ray Charles, Ronnie Dunn, and, of course, the greatest of them all: Frank Sinatra. His parents bought a guitar and a small sound system for Eldredge when he was a teen, and while he didn't immediately take to the instrument – "I never could sit still long enough to learn it," he admits – the sound system and its wireless microphone became a cornerstone of his early musical training. By age 15, Eldredge was a performer in demand for local functions. "I really grew to love the feel of the crowd," he says.
Eldredge says there was no question that his passion for performance would carry him to Nashville, but his move to Music City after college made one thing clear: He was going to have to pick up that abandoned guitar. "I saw people on stage playing these songwriter nights, just them and a guitar," he says. So Eldredge locked himself in a room to practice, and eventually started writing songs of his own. "It took me a while to finally get a hold of the guitar, but once I did I was hooked," he says. "I think being a student of singers works to my advantage, because it taught me how to phrase things. I had melodies all over the place in my head."
He has since moved on to writing with some of Nashville's greats, including the legendary "Whispering" Bill Anderson, who taught him that one of the tricks to being a great songwriter is to "just keep writing," Eldredge says. Two singles he's released so far certainly prove his range: His 2010 debut, "Raymond," was inspired in part by Eldredge's own grandmother and her struggle with Alzheimer's. Current single "Don't Ya" hits the opposite end of the spectrum, an up-tempo flirtation that ponders the mystery of romantic relations, and showcases the sexy baritone in Eldredge's voice. And during his own high-energy live shows, just like that kid with the wireless mic, Eldredge goes out of his way to connect with every member of the crowd. "That's the place I feel more alive than anywhere," he says. "Everything it takes to get to wherever I'm going to play – every airplane and car I ride in – is so worth it once I'm able to get up on that stage. I want everybody in the crowd to feel the energy that I'm feeling from them."
As he continues to work hard at the craft of songwriting, there's no question his talent will grow along with his audience. "You can create something from nothing, and that's the coolest thing in the world to me," Eldredge says. "This new music is me, and it's taken every song I've written up to this point to get to where I am. I feel better about my music now than I ever have felt, and I can't wait for people to hear it."
Blackjack Billy
"Once upon a time them boys started jammin', and God looked down and said, 'It is good.'"
There's no use in trying to compare or describe what they do. You can't really accurately and fully recreate the show experience to a friend. There's a good chance you find yourself bored with whatever follows them on your iPod. The one thing you can do is keep listening. You have to. You can't stop watching. You can't stop moving. You can't stop singing.
BLACKJACK BILLY is Rob Blackledge and Noll Billings.
When they met in January of 2011, they had no idea that less than a year later they would be creating and molding a sound that Nashville had never heard; a sound that Nashville desperately needed.
It was, and is, a perfect mixing pot. Blackledge, hailing from Madison, MS, brought the blues, soul, country and melody. Billings, hailing from Kennett, MO stirred in the rock, more country, hip-hop, and beat. Producer Jeff Coplan tied it together with a vision and an electric guitar and what you got can only be described as BLACKJACK BILLY.
Each member took a different and unique journey to this stage.
Noll Billings was raised in Kennett, MO. His hometown roots run deep but his love for adventure has propelled him far beyond his small town upbringing. After playing college basketball in St. Louis Noll, moved to Hawaii where he spent most of his time on the waves. If there is a beach, you'll find Noll on it. He island hopped for a few years until he knew that the music he'd been playing in bars had to find a bigger stage. Almost immediately upon moving to Nashville Noll signed a publishing deal as a songwriter with EMI Music Group and spent his first year in Music City in pursuit of a record deal as a solo country artist. Opportunities came and went and it was near the end of that year that Billings met Blackledge and for the first time the two of them sat down to write a song together. Something special was born.
Rob Blackledge was raised in Madison, MS. His earliest memories were of the baseball field, hunting, fishing, and the piano, so his family wasn't too surprised when he decided to move to Nashville after high school to attend Belmont University's School of Music Business. It was only a matter of months before Rob was on the road touring as a solo artist. It was 8 years later in 2010 that Rob befriended the then unknown band "Love and Theft". Rob began writing with the guys and one of the songs written was called "Runaway". It was Love and Theft's first top ten single. Grateful for the unplanned success Blackledge was still not certain Nashville was the place for him. Just months before moving, an introduction was made that planted Rob in Nashville for good. You guessed it… Noll Billings.
Collectively for Rob and Noll the past year has been monumental. After teaming up with producer Jeff Coplan (Love and Theft, Bowling For Soup) they were quickly noticed by Nashville music insider Doug Howard (Lyric Street Records, Polygram Music Publishing) who signed the boys to his new publishing company, Vandermont Music. Let the writing begin. In their first year, the duo has written and recorded over 30 songs, played nearly 50 shows and already shared the stage with Lynyrd Skynyrd, Justin Moore, Dustin Lynch, The Doobie Brothers, Trent Tomlinson, The Usual Suspects, Lady Antebellum, One Republic, Tonic, Josh Hoge, Will Hoge, Chris Young, Easton Corbin, and Lo Cash Cowboys. All of this activity caught the eye of Nashville icon Tony Conway. Conway has recently picked up the reigns as manager of this rocketing young duo.
As you can see, BLACKJACK BILLY is Rob Blackledge and Noll Billings. But let's be honest, BLACKJACK BILLY is really a lot more than that.
6 Degrees West
6 Degrees West is an explosive country music act with dueling guitars and four part harmonies. The band, deriving its name from "6 degrees of separation" in the music business, was founded by lead singer, Tim Pardee in late 2008. Tim had a vision to put together a group of talented musicians that would create a unique sound, along with an explosive stage presence.
After a long search, Tim found the right mix of musicians to complete this powerhouse group. With Ray Santo on drums, Shannon Pearce on lead guitar, and Sam Cox on the bass, the group has developed a great sound and lasting impression on its audiences.
Since putting this group of talented players in place, the band has seen a rise in success. Their single, "She Got Me There," has been well received by country radio and continues to build interest. Their latest single, and titled EP, "BOWCHICKAWOWOW," has left radio DJ's and audiences wanting more.
6 Degrees West has performed with some of country music's hottest acts, including, Zac Brown Band, Eli Young Band, Gloriana, Blake Shelton, Kenny Chesney, Rodney Atkins, Justin Moore, Locash Cowboys, and many more. The band has been invited to play some of the nation's best stages.
Billy T. of 92.9 The Bull in Lawrence, Kansas says, "The best thing this band could do is bottle up whatever is oozing out of their hearts and sell it to the rest of the music business, This band will rock your boots off live and are the best group of guys around. If you are not listening, dancing and worshiping 6 Degrees West you must be six feet under!"
Delisa Dawn and Route 66
Delisa Dawn and Route 66 are versatile and have a can't miss show with top vocals, hot band, comedy, gospel and great harmony. With over 400 grandstand performances to her credit, these include appearances with George Strait, Chris LeDoux, Marty Stuart, Sara Evans, Loretta Lynn and actor Ben Vereen for the Variety Club Telethon
Delisa Dawn and Route 66 have toured the country entertaining at fairs, dances, rodeos, festivals, conventions and special events. From Tennessee to Texas and Minnesota through Missouri, Delisa has pleased audiences of all ages. Starting in show business at the age of 3, Delisa has stayed true to her country roots. She has appeared numerous times in Branson, MO with her mentor, the legendary Faron Young. Delisa and Route 66 have have appeared in Las Vegas during the National Finals Rodeo and in Wyoming for the largest outdoor rodeo in the country, Cheyenne Frontier Days. Delisa was the featured act at rodeo events in South America and was the event of the year in Puerto Rico.
Delisa is also a graduate of William Chrisman.
Outlaw Jim and The Whiskey Benders
Outlaw Jim and The Whiskey Benders are a hard-hittin' Outlaw Country band with roots in the sounds of Waylon Jennings and Merle Haggard, as well as influences from New Orleans Funk and Southern Rock. They have traveled extensively in the Midwest and South, playin' festivals, concerts, private events, as well as the beloved honky-tonks along the way. They have played The Grand Ole' Opry Plaza Parties and famous venues on Lower Broadway in Nashville, numerous bars and festivals in New Orleans, and mountain towns in The Rocky Mountains.
In their hometown of Kansas City, Missouri, they have opened for David Allan Coe, Billy Joe Shaver, Sammy Kershaw, Aaron Tippin, John Michael Montgomery, Jason Boland and Stragglers, The Wilders, Rex Hobart & The Misery Boys, Blake Shelton, Josh Gracin, Carolina Rain, and opened Y'allapalooza at Verizon Wireless Amphitheater in 2008.
Playin' a unique list of original songs and sing-along favorites, many are comparing Outlaw Jim and The Whiskey Benders to the original outlaws, but with a flare all their own.
Rivertown KC
Rivertown KC is Rivertown is a high energy Country Pop group with one idea in mind: Entertainment! From Little big Town to Patsy Cline, Michael Jackson to Fleetwood Mac, Rivertown has it all!
Bill Mears: Lead Guitar/ Vocals-
Bill kicked off his music career playing in several successful bands on the campus of Purdue University in West Lafayette, Ind. Coming home to the Chicagoland area he continued to hone his craft and build a strong band bio. Bill has extensive on stage experience, attention grabbing guitar licks, melting vocals and harmonies, and an energetic stage presence.
Clayton DeLong: Lead/Slide Guitar -
While earning a degree in jazz guitar from the University of Missouri Kansas City, Clayton DeLong studied under Kansas City greats such as Rod Fleeman, Danny Embrey, Doug Niedt, Michael Pagan and Bobby Watson. Clayton has been a professional guitar instructor for six years and performs live music regularly in several bands including A La Mode, a clasic Kansas City jazz band. Visitwww.ClaytonDeLong.com to listen or for more information.
Jesica Poell: Lead/Harmony Vocals-
Jesica, lead vocalist of Kansas City jazz band A La Mode, has studied classical voice for 8 years. She attended one year at Stephens College in Columbia, MO, pursing a degree in Musical Theatre Performance. She returned to Kansas City at age 22 to start her career as a working musician and has been in the entertainment biz ever since. Don't let her small size fool you, this pint sized singer can pack a punch!
Sebastian Muehlich: Drums-
Sebastian started playing drums at the age of 11 and studied with Dennis Rogers for 8 years. He was first chair in the symphonic band at park hill high school, 3rd chair all-district band in '05 securing a 1 rating at district and a 2 rating at state for percussion ensemble, as well as winning 1st, 2nd, & 3rd place trophies at numerous drumline competitions. Additionally, he has a specialist certificate in producing music with logic pro from Berklee College of Music. Currently, Mr. Muehlich is teaching private drum lessons and continuing to hone his expertise as a sound engineer while studying privately with Doug Auwarter.
Andrew Johnson: Electric Bass-
Drew provides a powerful and intoxicating low end power to Rivertown. His style, imagination and cross-genre influences create a groove like no other!
LoCash Cowboys
It was April of 2008, and the LoCash Cowboys were doing what they do best--rocking a packed house. They were at Nashville's Wildhorse Saloon, where the two of them--Preston Brust and Chris Lucas--had met a few years earlier. The amped-up crowd was living, screaming proof that they had put the time since then to good use. They had been crisscrossing the country, honing their craft on stages large and small, developing one of the most dynamic live shows in any genre of music. Along the way, they had sold more than 60,000 copies of their homemade CD, earned endorsements from the likes of Budweiser, shared bills with artists including Charlie Daniels and ZZ Top, performed at halftime of NBA and U.S. Olympic team basketball games, and earned television appearances ranging from Tanya Tucker's reality show "Tuckerville" to "Pageant School: Becoming Miss America," writing the theme songs for both.
They had also attracted their share of support from those in the industry who recognized just how much of the total package they had--great vocals, world-class dance moves, a unique look and charisma to burn, as well as a wealth of experience and a work ethic that impressed everyone who dealt with them.

On that warm spring night, the final piece of the puzzle would fall into place. Jeffrey Steele, one of Nashville's biggest names in songwriting ("The Cowboy In Me," "What Hurts The Most," "My Town") and producing (Montgomery Gentry, Keith Anderson) was working his way through the crowd.

Steele, like so many others before and since, had caught the LoCash vision, and he signed on as songwriting partner and producer. After building and gathering strength for years, earning a growing legion of fans inside and outside the industry, the LoCash Cowboys saw their momentum become a perfect storm.

"We had a few great songs already," adds Preston, "but writing 40 songs with Jeffrey amounted to honing the vision, defining who and what we are. We knew the whole time that this wasn't just going to be 11 or 12 songs on a record. We knew it would be the debut of what the world will know as LoCash."

That debut, called This Is How We Do It, is a fitting introduction to a compellingly charismatic duo, a well-rounded CD that captures all the excitement of their stage performance while displaying a softer, more philosophical side as well. The project's first single, "You Got Me," is the best of both worlds. Penned by Chris and Preston, it is, quite simply, a love song that rocks.

The Cowboys' signing by Stroudavarious Records brought together two of the most important elements of the LoCash story--their ability to capture fans with their live performances, and their heart for humanitarian work, especially with young people.
Chris grew up in Baltimore, developing a love for music that would ultimately span eras and styles, from Frank Sinatra to Justin Timberlake, with special emphasis on '90s R&B and country. He learned break-dancing on the city's streets and eventually taught others, but most of his time and attention as a teenager went to baseball and football. He says, "Sports is where I learned integrity and all the big lessons about character."

Preston was born in Arkansas, but grew up in Kokomo, Indiana, where his dad was a preacher--Preston sang a capella in church but had to sneak out to go dancing. He turned out to be a natural, and soon he was choreographing show choirs, ultimately winning a regional grand championship. "I remember being so excited," he says, "but then I realized something was still missing for me. I wanted to perform, to share what was inside me as an artist, and not just choreograph for other people. I knew it was time to go to Nashville."

Chris, at the urging of a friend, had auditioned for a singing spot in a theme park show, and ultimately worked for Six Flags, Kings Dominion and others. He decided to chase his dream to Nashville as well. Calling on his break-dancing experience, he quickly landed jobs as an instructor at two dance studios and at the Wildhorse Saloon. It was there that he met Preston, who had moved to town the day before and was out on the town.

"We talked for a while and I offered him a job," laughs Chris. "I'd been there for a while and had begun to get discouraged, but Preston brought my energy back. We hit it off like brothers and when we found out both of us sang we said, 'Why don't we try something together?'"

They began writing, performing and recording, devising their strategy on the fly. Their live show did the heavy lifting, with their over-the-top energy winning fans in city after city.

"We became known for just going out and having a good time," says Chris. "We read each audience. We don't really have a set list. We just go out and make it fun."

The list of those they have shared bills with continues to grow--Toby Keith, Blake Shelton, REO Speedwagon, Tom Petty, Gretchen Wilson and many others. They toured the country headlining Maxim's Red Man Roadhouse Tour. Their TV appearances have been as varied as they've been exciting, ranging from Total Nonstop Action Wrestling's SlamiVersary, where they performed before 10,000 screaming fans at Nashville's Municipal Auditorium, to Fox News Network's New Year's Eve Broadcast before two million in Times Square. All got the LoCash treatment.

"We're like stage Marines," laughs Preston. "We walk out, take one look at the audience and attack. We never let up, whether it's a thirty-minute appearance or a four-hour show. The energy stays at a peak the entire time." Behind that energy is a world of industry knowledge put to good use.

"Everything we do is well thought out and part of a business plan," says Chris. "It feels kind of out of control and crazy, but in reality, I don't know two other guys who put this kind of time, effort, passion, drive, determination, creativity and initiative into making our ideas, music and dreams become reality." As they prepare to have This Is How We Do It take them nationwide, Chris and Preston are aware of the dichotomy in their humble roots and bigger-than-life personas and achievement.

"I think underneath it all, we're relatable," says Preston. "Chris and I are real guys. You can get behind the smoke and mirrors pretty quick, and we're still just these two guys from Indiana and Baltimore." They are also aware that the whole is bigger than the sum of the incredible network of parts that has brought them here.

"If you tried to line up the stars like this, it would never happen," says Preston. "It really feels like magic and destiny."

For their growing legion of fans, it is also the hard-won triumph of that combination of talent and energy that is LoCash.
Almost Kiss
Considered talented enough to be placed on the world famous, "Gene Simmons Family Jewels" in front of an international audience, Almost KISS caught the eye of Family Jewels' Producers and Executives in 2010 and were chose to be included as one of six tributes to be endorsed by Gene Simmons. Since then, this amazing group of four musicians has continued to excite crowds all over the country, growing substantially in popularity.
Part of what makes Almost KISS show so enthralling is the way in which they have so meticulously recreated the complete KISS image on stage. The boys feature authentic vintage instruments, makeup, and custom made costumes and boots. Their unmistakable New York accents and KISS antics truly bring out the outlandish, charismatic personas of the original four Gods of Thunder we all adore. In being true to the original characters, Almost KISS derives the majority of their song list from a specific part of the KISS katalog, primarily performing material that KISS played in live concert settings from 1974-1983. This long and wonderful list of songs spans material from the early tunes they played at small, dingy clubs in New York City to huge, international numbers such as "Lick It Up."
Their touring takes them to festivals, college campuses, corporate events, benefits, nightclubs, and private functions from Missouri to Texas and Wisconsin to the Caribbean. No matter where the band travels, people always enjoy Almost KISS because people, young and not-so, still (and probably always will) love KISS.
2011 and 2012 will take Almost KISS internationally to St. Thomas and St. John in the U.S. Virgin Islands for a few big shows and rumors of travel abroad to Germany, Mexico, and Canada are constantly swirling.
Double Vision
The Midwest's premier tribute to the music of Foreigner features members from three long time favorite Kansas City bands - Vandelyn Kross, Monkey Finger and London Drive.
Hells Bells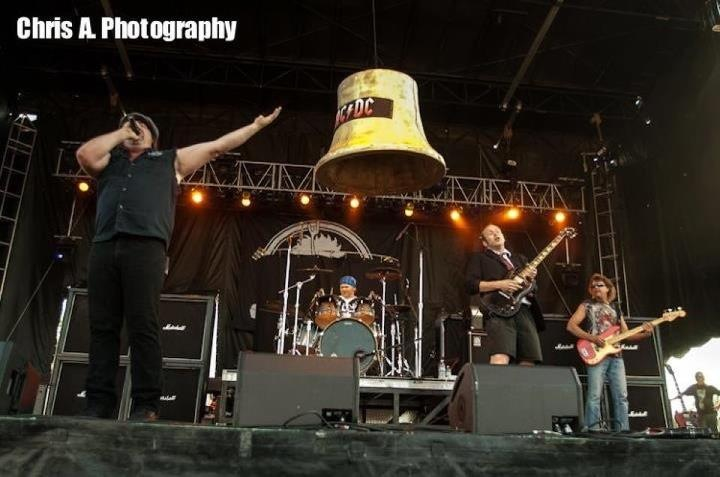 For 16 years and counting, Hells/Bells is the world's #1 tribute to AC/DC!
Touring 42 states, 50 weeks per year, Hells/Bells salutes the driving force of AC/DC in a manner surpassed only by the real AC/DC.
With authentic costuming, the look, the sound, and all of the crazy antics of angus young, Hells/Bells is total energy, absolute adrenaline – the most complete party experience acclaimed across the United States, Honduras, Mexico, Trinidad, and Europe by many die-hard fans.
Hear all the hits of both singers, bon scott & brian johnson.
If you can't have AC/DC, get the next best thing… Feel the thunder...the power of AC/DC... Hells/Bells!
For those about to rock
Hells/Bells salutes you!!!
SantaCaliGon schedule is subject to change.